Leon Wood
OFFICIAL #40
| | |
| --- | --- |
| NBA Experience | 25th season |
| Born | March 25, 1962 (Columbia, S.C.) |
| Resides | Queen Creek, Ariz. |
| High School | St. Monica (Santa Monica, Calif.) |
| College | Cal State Fullerton '84 |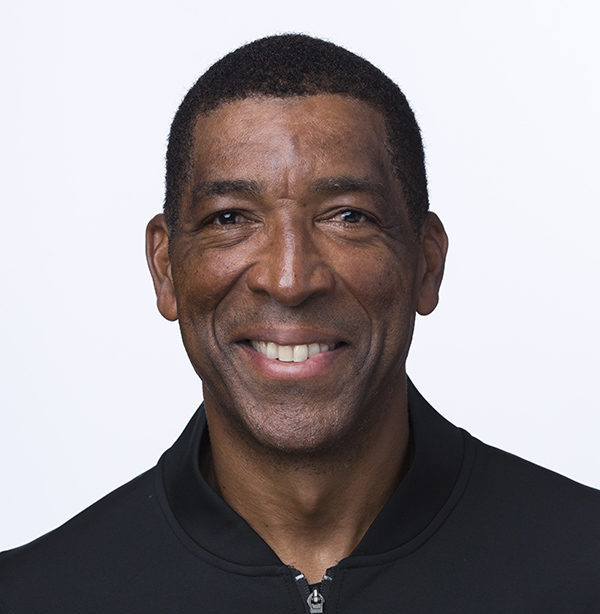 Leon Wood has worked 1,319 regular-season games and 23 playoff games over 23 seasons as an NBA official. His other assignments have included the 2013 NBA All-Star Game in Houston.
He has three years of CBA officiating experience and one year of collegiate conference in the Ohio Valley and Atlantic Sun conferences. He also has one year of high school officiating experience in California.
Wood played in the NBA for six seasons with the Philadelphia 76ers, Washington Bullets (now Wizards), New Jersey Nets (now Brooklyn Nets), San Antonio Spurs, Atlanta Hawks and Sacramento Kings, averaging 6.4 points, 3.2 assists and 1.2 rebounds. He was a member of USA Basketball's gold-medal-winning teams at the 1984 Olympic and 1983 Pan-Am Games.
Wood played for the University of Arizona for one season before transferring to Cal State Fullerton, where he was named an All-American. The Santa Monica, Calif., native was inducted into the Orange County Hall of Fame and the Cal State Fullerton Hall of Fame.
Wood has volunteered with the Cal Swish Basketball Club. His hobbies include playing golf and tennis and lifting weights.
Fun Facts
| | |
| --- | --- |
| Favorite TV Show | Law & Order |
| Favorite Movie | Black Panther and The Equalizer 1 & 2 |
| Favorite Musician | Hip-Hop Music |
| Favorite Meal | Steak |
| Favorite App | Hulu |
| Would Most Like To Visit | Africa and Australia |