Michael Smith
OFFICIAL #38
| | |
| --- | --- |
| NBA Experience | 25 seasons |
| Born | February, 5 1955 (Memphis, Tenn.) |
| Resides | Memphis, Tenn. |
| HS | South Side (Memphis, Tenn.) |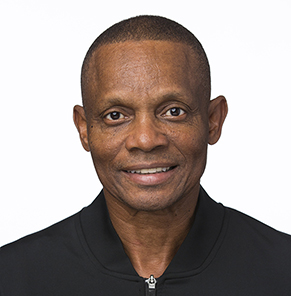 A winner of the Vanguard Club Achievement Award in recognition of outstanding accomplishments in the field of sports, Michael Smith has officiated 1,387 regular season and 43 playoff games, as well as the 1997 Schick Rookie Game, the 2000 Mexico Challenge and the 2003 NBA Europe Games.
In addition to his 25 seasons of NBA officiating experience, Smith has five years of CBA officiating experience and eight years of collegiate officiating experience in the Big Ten, SEC and Conference USA. Smith also has 10 years of high school officiating experience and was a member of the crew that officiated the 1990 McDonald's High School All-America Game.
Smith's athletic experience includes playing basketball and baseball at South Side High School in Memphis, Tenn.