Jonathan Sterling
OFFICIAL #17
| | |
| --- | --- |
| NBA EXPERIENCE | 1st Season |
| BORN | April 16, 1982 |
| RESIDES | Tampa, FL |
| HS | Satellite Beach High School (Satellite Beach, FL) |
| COLLEGE | Flagler College (St Augustine, FL) |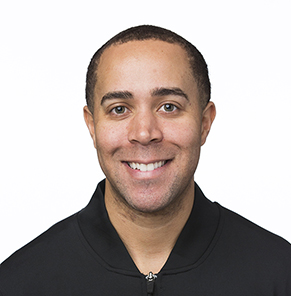 Jonathan is entering his first season on the NBA officiating staff. Prior to joining the staff, he worked six seasons in the NBA G League, three seasons in the WNBA and eight seasons as an NCAA official in the AAC, CUSA, Sun Belt, Southern, SIAC, Sunshine State and Peach Belt conferences.  He officiates with USA Basketball and has been a certified FIBA official since 2011.  Jonathan also officiated four seasons of high school basketball in Florida where he began refereeing.
During his time in the G League, Jonathan officiated in the playoffs for three seasons, working the NBA G League Finals in 2017.  He officiated the 2017 NBA G League All Star Game and NBA Celebrity Game in New Orleans.  He officiated the 2017 FIBA AmeriCup in Argentina, the 2016 FIBA America Olympic Qualifier in Edmonton, and the 2014 FIBA World Cup in Dubai.  Jonathan played basketball at Flagler College and then went on to play professionally for the Brevard Blue Ducks in the USBL.
Jonathan has a Bachelor of Arts in Business Management from Flagler College.