CJ Washington
OFFICIAL #75
| | |
| --- | --- |
| NBRA Experience | 2 seasons |
| Born | September 20, 1979 (Baton Rouge, LA) |
| Resides | The Woodlands, TX |
| HS | Thibodaux High School (Thibodaux, LA) |
| College | Southern University (Baton Rouge, LA) |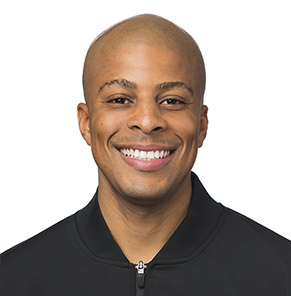 CJ Washington is entering his second NBA season having officiated 44 regular season games as a non-staff official.  Prior to joining the NBA, Washington officiated in the NBA D-league for 8 years, where he officiated in the NBA D-League Playoffs for 7 years, which included 5 years in the NBA D-League Finals.  He also officiated the NBA D-League All-Star game in 2015.
Washington has 10 years of Division I collegiate experience having officiated in the Southwestern Athletic Conference, Southeastern Conference, Conference USA, and Southland Conference.  Washington was selected to work in the Southeastern Conference Tournament and the NIT in 2013.  He also has 5 years of high school officiating experience in Louisiana and Texas.
Prior to becoming a professional basketball official Washington worked in the Houston Metropolitan area as a licensed Residential Building Inspector certified through the International Code Council.  He also worked as a Residential Real Estate Appraiser while in Louisiana.
Washington graduated from Southern University of Baton Rouge with a Bachelors of Arts degree in Mass Communications in 2002.  While in school he became a member of Kappa Alpha Psi Fraternity, Inc.
When off the court Washington enjoys spending time with his wife and two kids.  He also enjoys traveling with family and friends, reading, watching movies, and playing golf.