Brent Barnaky
OFFICIAL #36
| | |
| --- | --- |
| NBA Experience | 8 seasons |
| Born | May 30, 1975 (Hamilton, Ohio) |
| Resides | Clearwater, Fla. |
| HS | Clearwater HS (Clearwater, Fla.) |
| College | University of Central Florida '97 |
| | Nova Southeastern Law School '01 |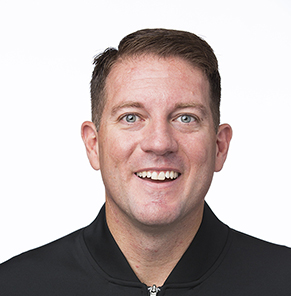 Brent Barnaky enters his eighth NBA season having officiated 399 regular-season games and one NBA playoff game. Barnaky came to the NBA with 10 years of collegiate officiating experience in the Southeastern Conference, Big East, Conference USA and other conferences around the country. He completed three years of postseason officiating in the NIT (2008-2010). During his five seasons in the NBA D-Leauge, he officiated the 2008, 2009 and 2010 NBA D-League Playoffs, and the 2009 and 2010 NBA D-League Finals. In 2014, Barnaky officiated in the NBA Global Games in Rio De Janeiro and London. Also in 2014, he officiated in the NBA All-Star weekend in New Orleans. 
In the offseason, Barnaky gives back to the game, by training and developing other officials at referee camps/clinics. Barnaky is married (Tiffany), has two daughters (Lilyana and Tinsley), a son (Brody) and resides in Clearwater, Fla.
Prior to his being hired onto the NBA officiating staff, Barnaky was a civil trial lawyer. He continues to remain actively involved with pro bono work for public-at-large clients in need of legal services. In his free time, Brent enjoys spending quality time with his family and playing golf.