Derrick Stafford
OFFICIAL #9
| | |
| --- | --- |
| NBA Experience | 30 seasons |
| Born | November 29, 1956 (Atlanta) |
| Resides | Fayetteville, Ga. |
| HS | Northside (Atlanta) |
| College | Morehouse College '78 |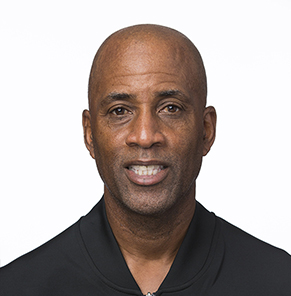 Over his 30 NBA seasons, Derrick Stafford has worked 1,670 regular season, 166 playoff, and twelve Finals games. He was a member of the crews that officiated the 1992 Legends All-Star Game in Orlando, the 1997 McDonald's Championship in Paris and the 2002 NBA All-Star Game. The 30-year NBA official has also served twice on the Executive Board of the National Basketball Referee Association.
Stafford has six years of CBA officiating experience, and he officiated Pro-Am basketball for six years. He also has seven years of collegiate officiating and 10 years of high school officiating experience in Georgia where he worked the state finals.
While at Morehouse College he played football for two years and baseball for four. Stafford made All Conference three years in baseball and led the conference in hitting in 1978. He was also co-most valuable player in baseball with NFL referee Jerome Boger in 1976.