Leroy Richardson
OFFICIAL #20
| | |
| --- | --- |
| NBA Experience | 23 seasons |
| Born | August 21, 1964 (Brooklyn, N.Y.) |
| Resides | Suffolk, Va. |
| HS | Westinghouse V & T (Brooklyn, N.Y.) |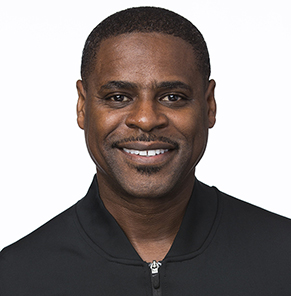 Leroy Richardson served his country for 12 years in the United States Navy (May 1982 – January 1994), and was the 1991 and 1992 Tactragrulant sailor of the year in Dam Neck, Va. He was also awarded the Navy Achievement Medal and two Good Conduct Medals. Richardson was an enlisted surface warfare specialist and underwater sea surveillance specialist, was deployed to the Mediterranean from August 1988 through February 1989 and was stationed in Keflavik, Iceland from April 1986 through May 1987.
After leaving the Navy, Richardson decided to pursue officiating full time. Since joining the NBA staff, he has officiated 1,270 regular season games and ten playoff games over the past 23 seasons, and was a member of the crews that officiated the 2000 Schick Rookie Game, 2000 NBA All-Star Saturday and the 2003 Japan Games.
Richardson has three years of CBA officiating experience as well as 10 years of Pro-Am officiating experience, including the 1992 Pro Am Nationals. He also has three years of collegiate officiating experience in the Big East, Southeastern and Ohio Valley Conferences. Richardson spent eight years officiating in Virginia high schools, where he worked the VHSL State Tournament.
Richardson has been involved with the Tidewater Detention and various local public and private schools and organizations. An avid sports fan, Richardson enjoys watching car racing, basketball, football and baseball.